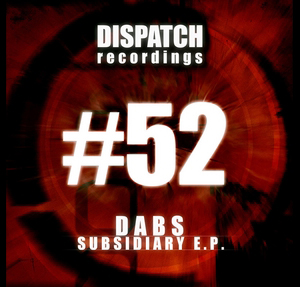 Italian producer Dabs firmly stamps his impression on 2012 with this weighty 4-track EP on Dispatch. He's not alone either. Several producers are enlisted including Dispatch boss Ant TC1 and Audio Tactics label owner, Survival. They both go in on a remix of 'Oh the Horror', an earlier release Dabs made with relatively new producer, Cern. This is just one highlight to an intriguing EP.
Flying solo to begin with, Dabs pulls out title track 'Subsidiary'. It's a tough steppa reminiscent of older Dom and Roland productions along the lines of 'Iceberg' with it's chattering drum breaks and insistent percussion. The change up on the backing Fx outline the main rolling rhythm seeing some later sinister synth stabs drop by for some mischief. Dabs takes the tune down and back up again with these elements building up well to the 2nd drop of rollicking drums and sub bass workout. Good mixing fodder as the fidgety rhythm will sit well over many other tunes you could drop in.
It's a good starting point which continues on 'Time Carrier'. This one being on a collaborative tip with Safire, K-Mag's "one to watch for 2012″. The tune is a nifty bit of neurofunk with a real Renegade hardware vibe to it, all atmospheric pads, sci-fi FX and growling synthlines. The breakdown allows the slightly more melodic elements to develop as it builds up and breaks out into a second wave of relentless techy goodness.
Mid-way through the EP 'Survival and Ant TC1 keep the bar raised with that take on 'Oh the Horror'. They keep the originals epic grimey feel by injecting brief clipped rugged amen breaks for good variation on the beat. It has proper mixing potential while still keeping the nervous edginess of the original drum patterns at it's core. The rougher jungle feel adds to the impact of the tune and makes for an overall strong look.
To finish off, 'Stendhal', raises it's head. This one is another collaborative effort, Dabs working here with rising star Amoss. This is probably my personal pick of the four. From it's powerful introduction via the smooth solid bass dropping in, to the release of the heavy swinging rhythm it makes a real impression. It's punctuated with impressively eviscerating percussion and richocheting symbols complemented some more by the introduction of a deeper synth line. This fills out the backdrop of the tune at the breakdown point, making the 2nd drop work really well to continue it's weighty vibe. All the right elements to cause dancefloor driven types to get their fix.
A promising release from Dispatch here then, particularly if your a fan of that darker Hardware/early Bad company/DSC14 sound. Equally a solid purchase for anyone wanting some good mixable drum and bass with the high rate of modern production standards we expect to hear in 2012. Expect to see more of the same from both label and producers.
Node.
OUT NOW
http://www.chemical-records.co.uk/sc/downloadstore/release/20261 – Digi Release http://www.chemical-records.co.uk/sc/servlet/Info?Track=DIS052EP02 – 12″ Vinyl
Subsidiary – http://www.chemical-records.co.uk/sc/deck?track=~20261-1
Time Carrier – http://www.chemical-records.co.uk/sc/deck?track=~20261-2
Oh The Horror (Survival, Ant TC1) – http://www.chemical-records.co.uk/sc/deck?track=~20261-3
Stendhal – http://www.chemical-records.co.uk/sc/deck?track=~20261-4