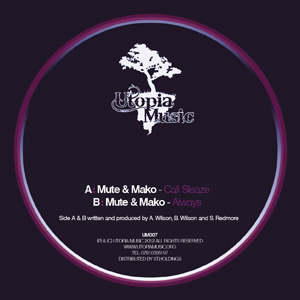 "I would like our musical message to be revolutionary, yet non-radical. Heard, yet not loud. Influential, yet non-confrontational"
Wise words from Utopia head honcho, Mako, who teams up again with production partner Mute to bring out the latest offering from the label. Together they have put out music on Ingredients, Mars as well as Utopia.
The brainchild Of Mako, Utopia Music is driven by a determined vision and inner calmness. Mako uses meditation and the Japanese concept of "Kaizan" to calm his thoughts and leave room and energy to focus on music, and pushing the label.
It's just as well that he does as we are treated with the latest release. With Cali Sleaze & Always, Mute & Mako continue the trend with Utopia of releasing forward thinking, high quality DnB. Set up as a base for like-minded producers to release an ever increasing catalogue of music, the future certainly looks bright for Utopia if the latest output is anything to go by.
Mako gave his first tune to Fierce on CD. This was passed onto Bailey and D:Bridge eventually ended up getting it cut to plate and remixing one of the tracks on Utopias first release. (Mako & Andyskopes – In The Raw – D:Bridge Remix)
The order of the day with these 2 new bits is deep bass & punchy beats.
On Cali Sleaze, as the intro starts it feels as though the percussive sounds are like rain drops falling behind elongated fading syth stabs and the occasional lick of bass. No drum break needed for this intro. The percussion is cut out by a long growling bass stab, into silence. No big build up here either. Just an inside-out-seagull sounding noise, that is manipulated into a repetition that acts as a build up and the tune drops. A stomper. A screw face shape throwing tune if ever there was one. You could cut some serious rug to this. The tune isn't overpowered by drums, they remain punchy throughout and the short sharp snare just casually carries the tune along. Like a boss. The tune pulls you from side to side, building into a crescendo of synths then dropping right back into the stripped back beats and crunchy, but still warm, bass.
Every 32 bars or so we are treated to a big ol' sub that completely takes you by surprise and make the tune sound like its falling down a well before it pulls you back up again, gathers itself together and gets back into the head nod shit.
A slight hiatus during a brief, sparse breakdown before it's all dropped in again with nice variations in the bassline and percussive noise over the top to allow it to remain interesting. More deep sub hits keep the bottom end chugging along and we continue like this until the tune breaks down into the percussion from the intro before ending.
On the flip, Always serves up more of the same. It starts eerily, with a pad interrupted by claps and echoes until the hi-hat shuffles in and is joined by the occasionally kick. Emerging from underneath is a high synth that is intense and takes over, before the tune melts away with an evil sounding murmur into silence. The punchy beat kicks in with a similar bass to Cali Sleaze, but a lot warmer sounding and not so much of a growl. The bass is deep and fills the emptiness in the beat beautifully. Manipulated vocal samples mark each phase of the beat for the next 32bars. After this the tune cuts out for a beat and a vocal sample is reverbed like an old dub tune. The bass switches up to a different pattern that is a lot meatier and makes the tune feel like it has moved up a notch.
It's at this point where it feels like Always has reached the same level as Cali Sleaze. Both would work well on the dancefloor and hold enough replay value to be enjoyed at home. Good music to stomp around with on your headphones, they would certainly make sure you weren't late wherever you were going. There's a certain darkness to the sound that I think will make the release appeal more to the techy crowd, but either would not look out of place breaking up a decent jump up set.
Of the two, Cali Sleaze is definitely the one I can see you hearing out and around town more out of the 2. It has a bit more energy that Always, though both will remain on my mp3 player for a while to come.
A solid release.
Nolan
Purchase:
Vinyl: http://www.chemical-records.co.uk/sc/search?SX=&ND=-1&Sort=NI&Lab=Utopia+Music
MP3: http://www.junodownload.com/labels/Utopia+Music+UK/releases/
Web: http://www.utopiamusic.org/
Soundcloud: http://soundcloud.com/utopia-music
Facebook: http://www.facebook.com/UtopiaMusic?sk=app_178091127385
Twitter: @MakoUtopiaMusic