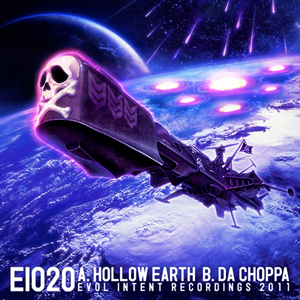 Evol Intent the US tech heavyweights come back with another hard hitting release Hollow Earth / Da Choppa.
Hollow Earth comes in with nice atmospheric s and film sampling to create mood, then rips in hard with a black and decker baseline and punchy snare and bass drums.
We then get taken on a severe drum step journey testing your senses, in a good way.
The theme continues with more drum step beats. This is the only disappointment for me in the tune as I would of liked a full DnB recovery.
But all in all good sound and dirty work from the heavy tech killers.
As Da Choppa suggests by its very name, it deliverers straight away with heavy chopped up beats.
The tune builds and builds and chops and chops, but ultimately for me does not deliver until half way through. Suddenly we seemed to have stepped up a gear and oh yes. This time the tune does seem to work better with the drum step. And to round it off we see the awesome inclusion of the seminal Predator sample from the Terminator himself.
Erebus